Eagle Sportz Launches Franchise System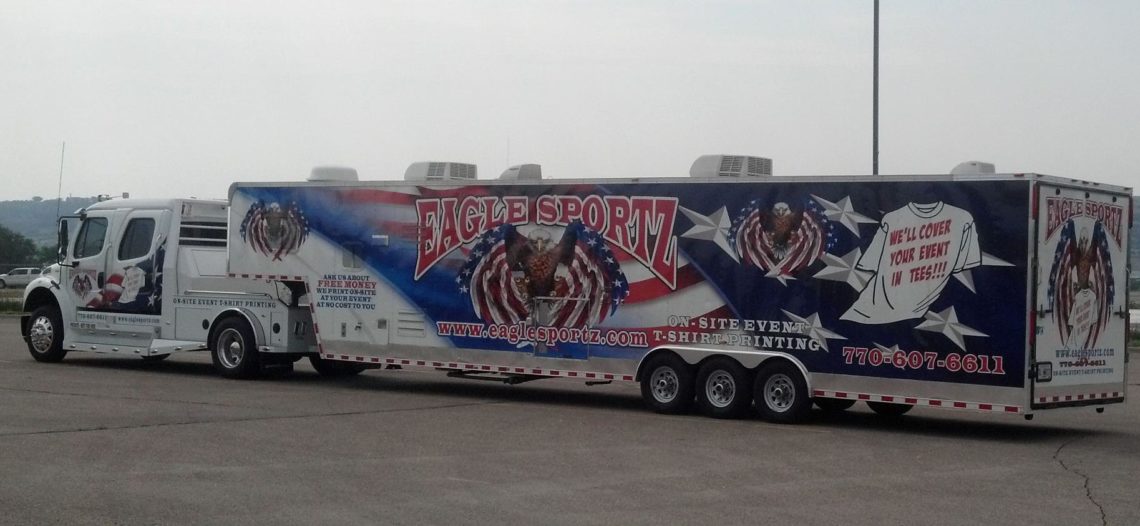 Eagle Sportz Launches Franchise System
Eagle Sportz is a tried and tested name in the sports apparel and custom printing industry.  The company is based in Northwest Georgia, but has provided services to sporting events and schools around the country for years.  The organization is family owned and operates with a dedicated focus on customer satisfaction and product quality.  The organization has operated with a group of crews who provide services throughout the country from the home base in Georgia in addition to affiliated crews in several states, so the franchise model was a natural transition for the brand.  The benefit to franchisees right off the bat is that there is existing business in many of these markets already in place they will walk right into in their territory.  So what makes the Eagle Sportz model tick and why have they been so successful?
Benefits of Eagle Sportz Custom Printing Services
Eagle Sportz has gained a solid reputation as one of the leading custom printing services across the country. The company is known for providing graphics solutions for souvenir apparel to teams businesses and organizations that need them for their commemorative, promotional, or fundraising events.
Since 2006 the company has gained a reputation for the quality high-impact products and professional customer support that they have made available to their customers. The following are some of the benefits that have made Eagle Sportz custom printing service popular with customers:
Self-Contained Mobile Unit
One of the benefits customers get is a self-contained mobile unit that will serve as the outlet for selling products at your events. The mobile unit is supported by a highly skilled graphic design staff. The company's staff will handle all aspects of the service from design, printing, to the final transfers.
Unlimited Market Potential
Eagle Sportz can handle different types of events locally or across the nation. The company has been developing custom solutions for small business and large organizations for more than a decade. The service is a no-cost fundraising opportunity that helps institutions and organizations with captive audiences generate revenue with commemorative and promotional products.
Product and Art Support
Even though the service is provided at no cost to schools, sports teams, businesses and other organizations, Eagle Sportz will ensure that you get the highest level of product and art support at every stage. The company can tap into its graphic design staff with more than 60 years of combined experience to ensure that the products are delivered to your event on demand with fast turnaround times.
Easy to Deploy
Small businesses, schools, and organizations do not have to worry about setting aside a budget for their custom apparel to commemorate events or generate revenue for fundraising. Eagle Sportz can guarantee quick turnaround times and at no risk to your organization. The service is available throughout the country on demand.
Track Record and Reputation
Eagle Sportz has developed a track record since its inception in 2006. After just 4 years of existence, the company was awarded the Cartersville-Bartow Chamber of Commerce Small Business of the Year. It has served both small and large businesses entities as well as schools, institutions, and sports teams that needed to generate revenue for their events.
So far, the service has managed to raise $276,000 for schools and businesses that need custom apparel for commemorative, promotional, or fundraising purposes. Its track record and no cost service has proven to be a popular model for different types of customers looking for these quality products and services.
Nationwide Network
Regardless of where you are in the country, you can get the service for both local and nationwide events. Eagle Sportz has maintained a network of service providers with qualified staff and state of the art software and equipment that will ensure that you get the service you need when you need it. This also includes round the clock customer support and open lines of communication to help maximize the impact of your efforts.
For more information on the Eagle Sportz Franchise, visit the franchise page here:
https://franchiseconduit.com/franchise/eagle-sportz-franchise/
mode_editLeave a response