25 Reasons the All In Adventures Franchise Works
Going into Business with Support and Guidance.
The All In Adventures management team will offer unrivaled training and support to each new franchisee as they join the All In Adventures family. The company's operating model is simple and has been structured with well-defined, repeatable processes and systems in place, allowing for ease of replication.
As an All In Adventures Franchisee, you can count on the following benefits and support:
1. 32 Operating Locations across 13 States – we've got the model figured out.
2. Multi-faceted revenue stream business – Escape Rooms, Game Show Business combined with Axe Throwing creates a unique, innovative, and powerful business model.
3. High margin service model.
4. Negotiations with Landlords, Malls, and Property Management to get the best lease
and best terms for real estate possible.
5. Knowledge of Submittal & Licensing Requirements for State & County Authorities.
6. Guidance/Advice on Building or Up-fitting a new location to be opened.
7. Guidance/Advice-related to opening, constructing, and building out the All In Adventures business model.
8. Guidance/Advice on Economic & Area for where to place and operate your All In Adventures business model from.
9. Negotiated vendor relationships for Furniture, Fixtures, and Equipment to be Purchased.
10. Guidance and Advice on how to select (if needed) a licensed General Contractor, Architect, Civil Engineer.
11. Guidance/Advice on creating necessary documents in order to successfully operate an All In Adventures Business.
12. Guidance/Advice on whom and how to Market and Promote the business.
13. National and regional marketing campaigns.
14. Web, Loyalty, Social media, and branding all in place and being executed nationally.
15. Training at Franchisor Location covering all aspects of how to manage and operate the All In Adventures business model.
16. Training at Your Location onsite in your business location.
17. Guidance/Advice on Budgeting/Forecasting for establishing and running an All In Adventures business.
18. We will support you in creating a Pro Forma P&L for opening an All In Adventures business.
19. How to Schedule, Staff, and Project HR needs.
20. Guidance and Advice on Timeline for Construction/Up-fit, Staffing, Training, and Marketing a Licensed All In Adventures business.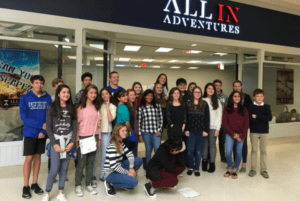 21. List of Additional Monthly and Quarterly Services required or suggested to operate an All In Adventures business.
22. Guidance and Advice on how much to charge and price services.
23. We negotiate for you, with Buying Power and Economies of Scale you can leverage as an owner.
24. Assistance with operational and management elements in managing the day to day business.
25. How to manage the financial side of an All In Adventures business.
Join us in creating an amazing, unique, and powerful entertainment experience for people!
Call Us: TEL: 844-502-5546
Email Us: [email protected]
All In Adventures: www.allinadventures.com 
mode_editLeave a response